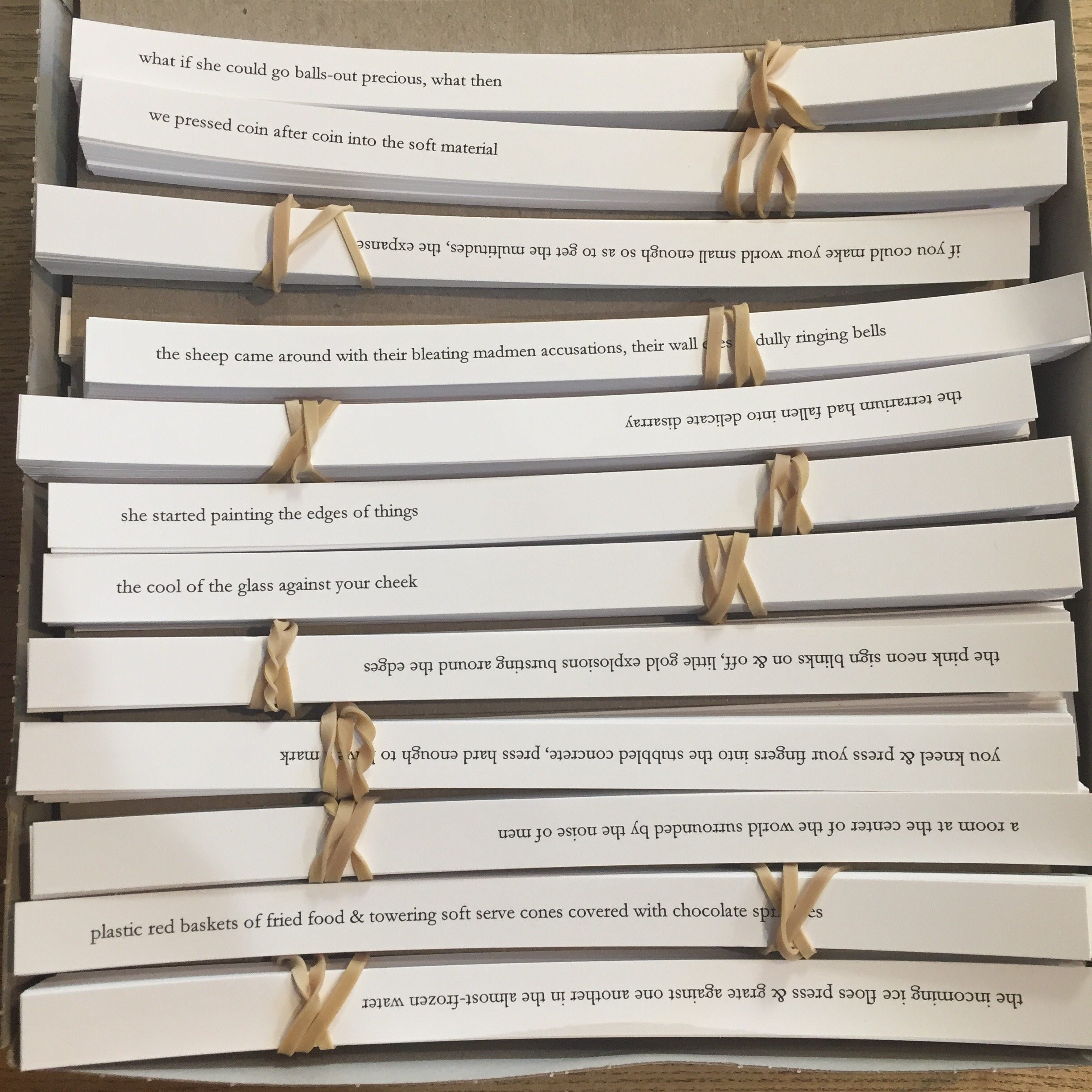 two-page collection is a limited edition commissioned by Interface Gallery in Oakland, the first in a series pairing solo visual art exhibitions and new writing. The show was a room at the center of the world surrounded by the noise of men, an installation by the Toronto-based artist Jenine Marsh. Not responding to Jenine's work but with it in my mind, I filled up two pages with single lines of text. Forty copies were printed, cut up, and placed in envelopes, so that the lines can be read in a different order each time. Emma Drew reviewed the show for KQED:
Both artists reshape found materials, wrestle with inherited structures of power and expression and consider what might be important about an imprint left on a surface. At Interface, both Marsh and La Rocco convey how value might be embodied and how it is ultimately ecological. What kind of marks are left on the landscape and on one another, by words, by fingers, by machines, by shifting rocks, by plants, by train tracks, by industry, by barriers, by boundaries? This is the rate of exchange still left to rectify.
And here is an excerpt from the announcement:
Marsh's sculptural work re-imagines corporeal experience as an embodiment of surfaces of contact. Familiar objects and simple deformations feel out alternatively tactile modes of agency and exchange at the body's periphery. For Interface, Marsh will present a new sculptural installation continuing her recent explorations with train-pressed coins. Marsh considers the flattening and destruction of coins as not only an anti-capitalist sculptural act, but also as a potentially feminist, transformative gesture, producing alternative modes of value and exchange which are tactile, embodied and personal.
La Rocco works with found language and collage. Mucking around with and in between genres, she often recycles and misuses her own writings, playing with juxtaposition and accident. She is interested in edges and textures: the materiality of words and grammar. She views her piece for this exhibition, entitled two-page collection, as a kind of collage or modular poem made up of some new writing and some quotes from previously written pieces. It consists of "stand-alone" sentences and phrases that are nonetheless existing in relation to each other and can fit into any order, depending on the reader. The sentences will be cut up and presented in an envelope rather than in a specific order on a printed page. While not writing specifically about Marsh's work, it did inform some of the writing. Marsh in turn selected the title for the show from a line in La Rocco's "collection."