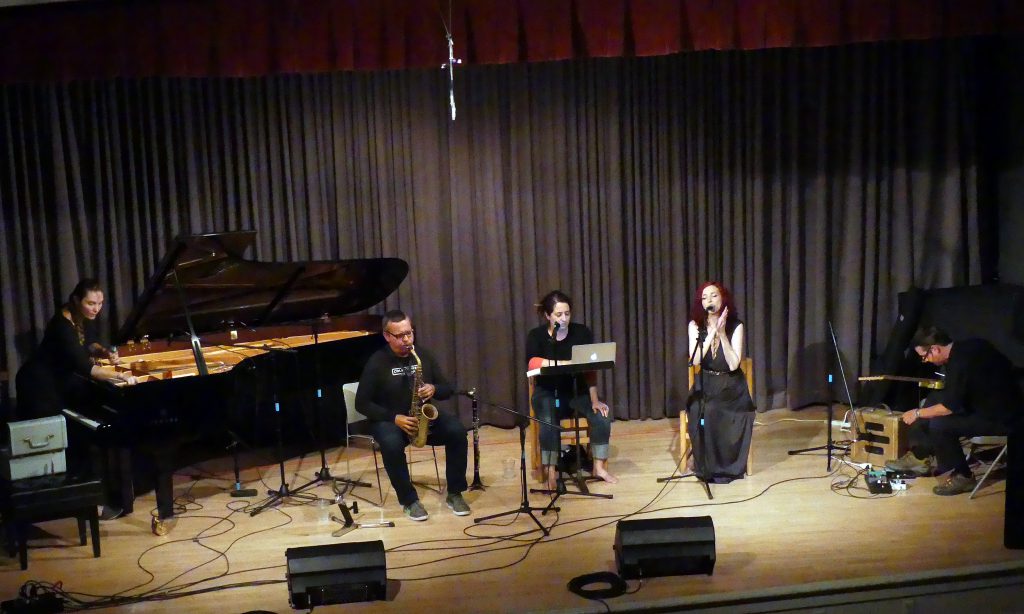 Musician/composer Phillip Greenlief & I created animals & giraffes as a way to explore how improvisation on and off the page can create a larger conversation between sound and text. Collaboration is central to the project, and we perform regularly with various musicians and dancers, at places like The Lab, Pieter, and the Community Music Center.
Our debut album, JULY (Edgetone Records, 2017), features a constellation of improvisers: David Boyce (voice, tenor saxophone, electronics); Dapplegray: Nava Dunkelman (percussion), Jeanie Aprille Tang (electronics), Tara Sreekrishnan (piano); Evelyn Davis (prepared piano); Aurora Josephson (voice); Tim Perkis (electronics); Jon Raskin (baritone saxophone); John Shiurba (guitar); and Karen Stackpole (gongs, percussion).
Landlocked Beach (Creative Sources, 2018) was recorded as a live broadcast on Jon Leidecker's Over the Edge at KPFA FM in Berkeley on March 10th, 2017. A 73-minute trio edited by Leidecker (electronics, live sampling), it features Thomas Dimuzio's disembodied voice.
We're currently ensemble in residence at the Center for New Music.
"I just need one word & I can tell you everything"

with Phillip Greenlief, Aurora Josephson, and Jon Raskin

8:40